Manage episode 282176365 series 1070014
著作
Kanako Tanaka
の情報はPlayer FM及びコミュニティによって発見されました。著作権は出版社によって所持されます。そして、番組のオーディオは、その出版社のサーバから直接にストリーミングされます。Player FMで購読ボタンをタップし、更新できて、または他のポッドキャストアプリにフィードのURLを貼り付けます。
I think I am good at fishing!
>>Listen to the story about Pel's Fishing-owl
このブラウザでは再生できません。
再生できない場合、ダウンロードは🎵
こちら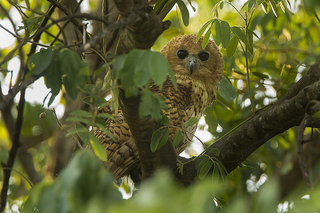 Pel's Fishing-owl
(Scotopelia peli)
Photo By Francesco Veronesi from Italy
(Pel's Fishing-Owl - Malawi_S4E1943)
[CC BY-SA 2.0 (
https://creativecommons.org/licenses/by-sa/2.0)
], via Wikimedia Commons
Where can I find Pel's Fishing-owl in Uganda?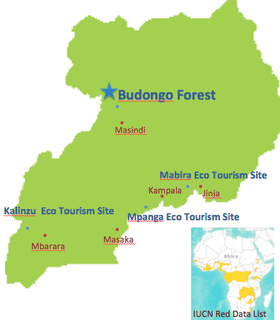 This bird can be found on the river side of Budongo Forest.
Press "read more" for the full Script of the program
30. Pel's Fishing-owl
(Scotopelia peli)
NFA bird Podcast: I am Johnnie Kamugisha. The bird for today is a Pel's Fishing-Owl
A Pel's Fishing-Owl is a huge owl that is unlikely to be confused with any other bird, in the Strigidae family.
It is one of the largest owl species in the world with a length of about 60cm, a wing span of 153cm and about 2-2.35 kg.
It is a bright orange-rufous heavily barred dusky above, and a little paler below with variable dark spots and bars.
Sexes look similar only the male is more rufous than the female, but there is considerable individual variation.
It feeds nocturnally on fish and fronts snatched from the surface of lakes and rivers.
They prefer slow moving rivers with large overhanging trees to roost and forage from like at the bottom of the Murchison falls.
Unlike most owls, they have minimal feathers on the toes and the tarsus, thus minimising the amount plumage that gets wet while fishing.
Pel's Fishing-Owl nests in hollows, rocks, and the forks of large trees.
Two eggs are laid but only one chick is raised.
Like diurnal raptors that specialise in fish, they have spiky scales on the bottom of their feet that help them grip slippery fish.
Since hearing and auditory stealth is not important to its hunting techniques, this owl does not have strong hearing and does not have the soft edges to its flight feathers that most owls share, which makes them almost impossible to hear in flight.
They have a white throat that is usually obscured but puffed up in displaying birds during courtship.
The Pel's Fishing-Owl has distinctly dark eyes, often black in colour.
The song of the male Pel's Fishing-Owl is a deep, sonorous, horn-like boom.
The female's songs are similar but are higher pitched and even in a double-note.
They are monogamous and territorial, claiming a stretch of river or lakeshore for themselves.
The eggs are laid when water's are starting to fall, so that brood feeding coincides with low water and concentrated prey.
The female does the incubation for about a month, while the male feeds her.
At the first sight of danger, both parents engage in distraction displays to protect their offspring.
These could be behaving as if injured, to draw the attention of the potential predator.
The bird for today is a Pel's Fishing-Owl and am Johnnie Kamugisha
47 つのエピソード